On Tuesday, I'll be headed over to
STAR,
a kids after-school program I volunteer for. To get the kids in the Christmas spirit, we'll be making cards, which is one of my favorite (non-sewing related) crafts.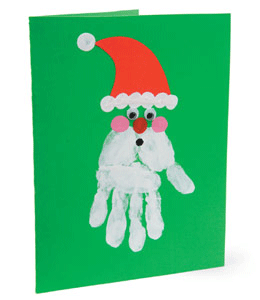 Last year, we made these cool Santa cards, with the beard made from a hand print. This craft was surprisingly clean, and only one of the elementary boys tried to wipe his freshly painted hand on the wall. Painty mess was averted.
We also did some paper mosaic cards--I cut out the paper squares and gave them to the kids in baggies, which were a bit easier to manage than the free-for-all method. Glue sticks for all, and this was a pretty clean craft as well.
This year, I'm excited to try some ideas from
Martha's Kids' Christmas Crafts.
These button cards are made from construction paper, buttons and glue. I'll just have to find a strong adhesive that the kids won't make a mess with. If I can cut out the paper elements ahead of time and count out the buttons (placing them in baggies), I think this is going to be a fairly easy craft with great results.
The Candy Cane Reindeer are made from felt and pom poms. I'll cut out the faces ahead of time, so the kids can make more than one craft to take home. I think these are super cute.
Do you do anything special with kids around the holidays? Any tips on keeping craft time clean (or relatively mess-free)?